Combinig
Art
&
Marine Conservation
Combine art with marine conservation to raise awareness around the growing threat sharks are facing is our Mission.
Each FinArts shark is hand-painted and has its own story
representing the introspective creativity of all the fantastic artists, from all over the world, who are supporting our mission.
– Painting a better future for sharks-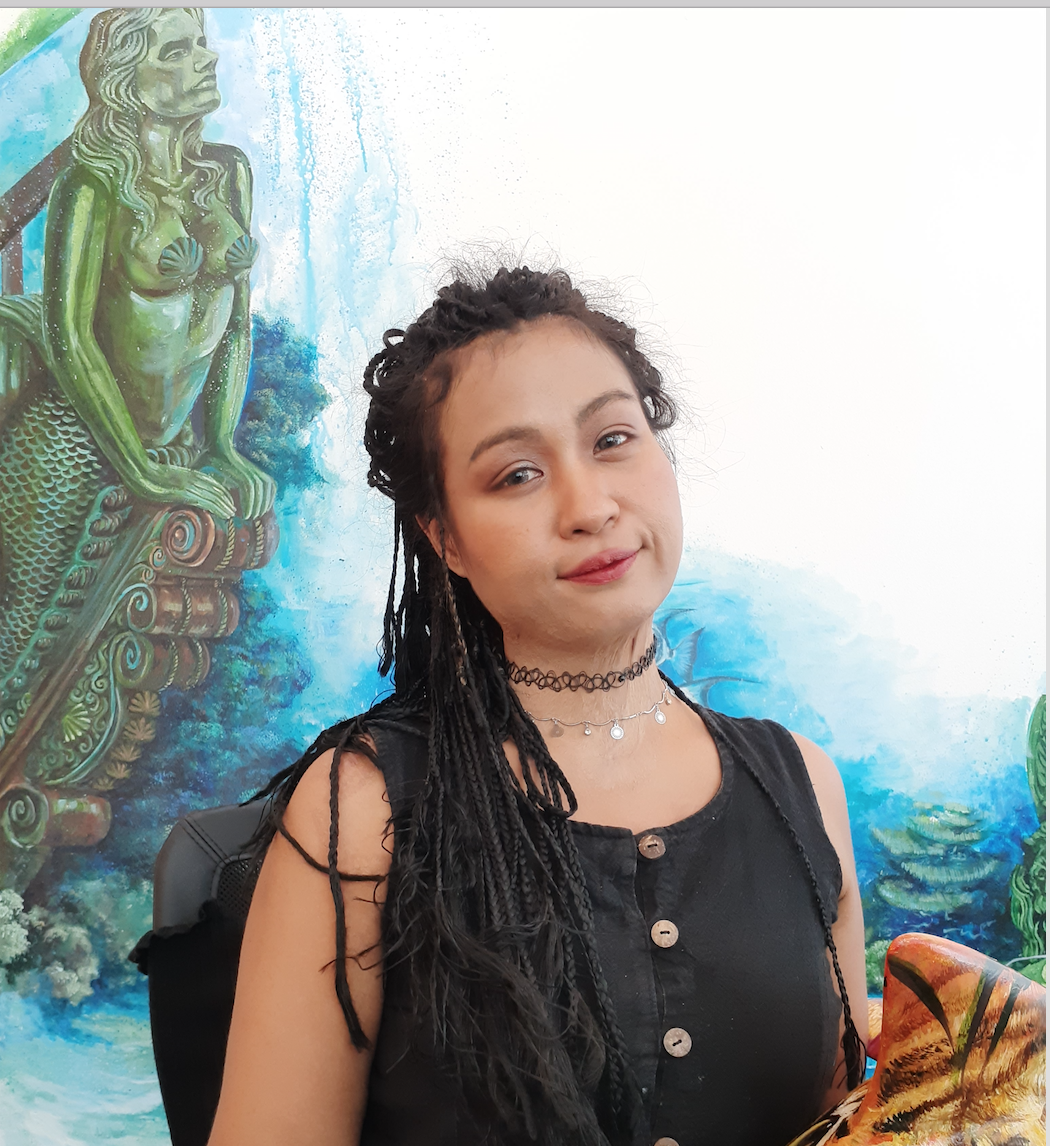 Sunanta Naulsomsri (Ko) grew up in Nakhonsithamarat, Thailand
She was inspired as an artist from a young age by her father . Later she graduated from Thaksin University in Fine Arts. After graduating, she went on to be an Art Tutor in Bangkok to children under 15. 
After a few years of teaching she moved to Phuket in search of an opportunity to show case her own artistic skills. There the FinArts found her. She is the senior artist in our head quarter in Chalong, Phuket.
Her unique style influenced by traditional Thai Art is telling fascinating stories around sharks and their environmet.
Alex Loew has been drawing and painting since childhood. Following his love for art, he attended Art College in Nuremberg, Germany. In his early 20's, Alex moved to Thailand and became a SCUBA dive instructor and liveaboard cruising director. During this time his love for the sea grew along with it, his passion for marine conservation.
After 6 years in this profession, he moved to Bangkok to earn his bachelor's degree in Mass Communications. During his time in university, he continued to enhance his artistic ability. With the support of his friend and business partner Holger, Alex has created the "Fin Arts Shark Sculptures" entity. Through his life experience and knowledge he has become an expert in the concerns of our marine environment, especially the preservation of our Sharks. His art is a combination pop art and surrealistic marine designs with cartoon elements, a marvellous blend to behold.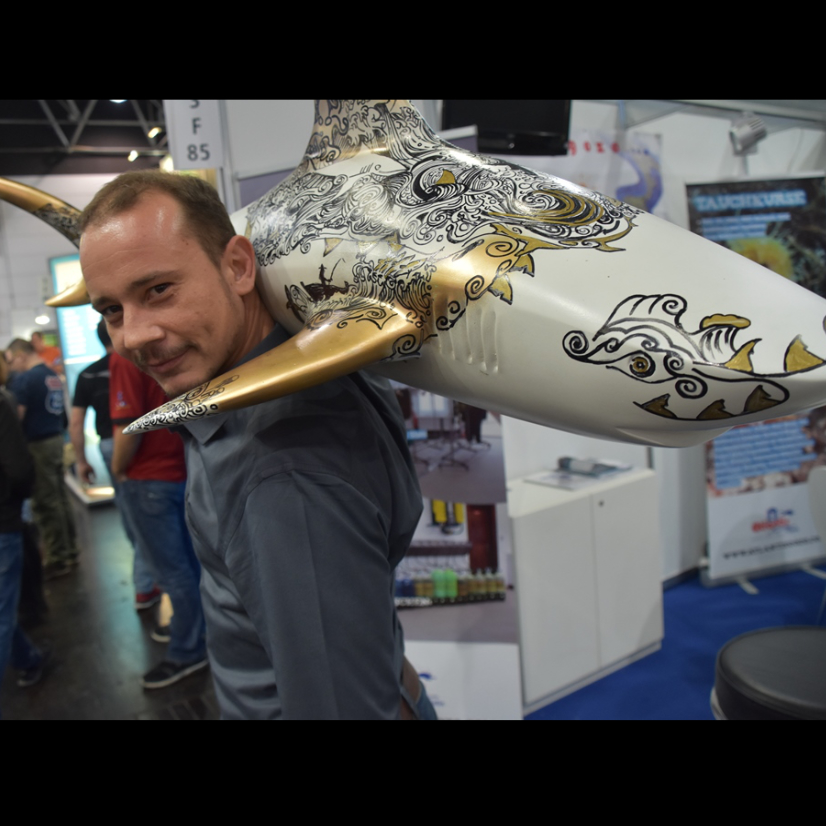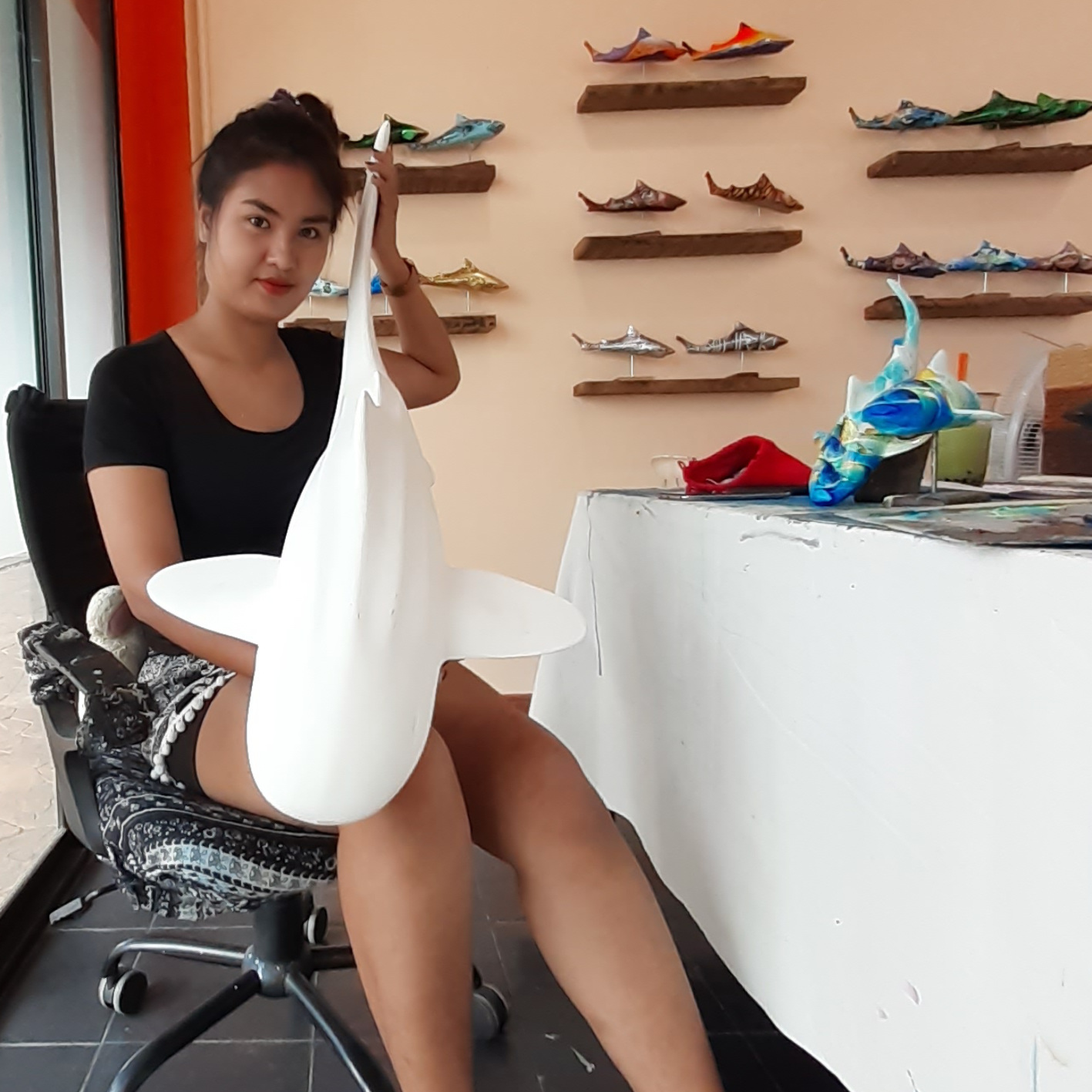 Saowaluck Nualsomsri (Gift)
Gift has graduated from Phuket Rajabhat University in English for Service Industries. She was just about to be employed by a reputable Hotel in Phuket when COVID struck and the whole tourism industry came to a stand still.
Luckily Gift always had a gifted hand for painting. like her sister Ko she is now putting her talent onto our sharks, working in our head quarter in Chalong, Phuket to paint a brighter future for sharks.
Anuwat Sirirattanajit owner of 1979 Art Studio
Grew up in HatYai and is a self-learned abstract and semi-abstract style artist. Well known in Phuket because of my exhibitions I am sought out by many international visitors. In the beginning, there was my passion in nature, light and shadow, color and texture and the view of the world. I am always finding the contemporary art close to my heart but my focus on emotional thoughts with the bright colors and variety, my art works always has a tale in it.
My design are as I see sharks in my imagination, traveling the different oceans and depths with the sun kissing their skin through the waves. They are forever magnificent in my mind.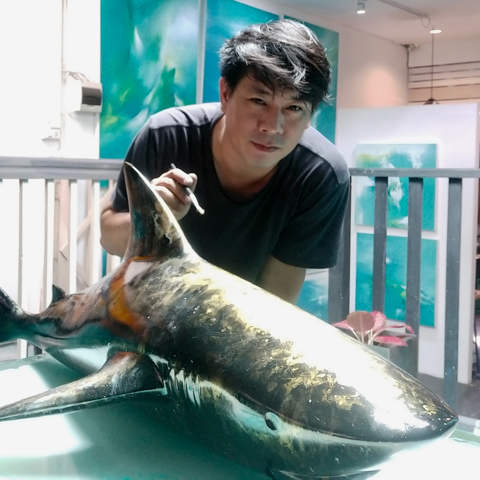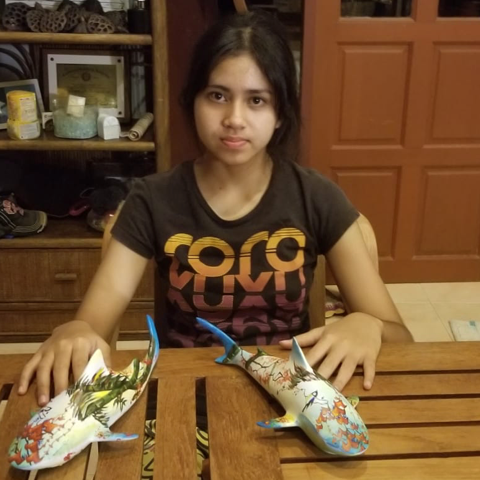 YUWANDA SINGAKALA (Trajree)
Yuwanda Singkala (Trajree) A Phuket child prodigy has turned her artistic talents to help raise awareness. Trajree is only 15 years old but she's been drawing and painting for more than 12 years.
When she was a small child, she ignored the toys her mother offered and insisted she be given paper and paints. She's won numerous painting awards at all levels of school and is a minor celebrity in Southern Thailand. With support from her Mother, she is using her considerable talent to raise the public's awareness of the plight of nature's most efficient predator.
Stephen Mele, started out as a Computer software and design developer from Connecticut USA. After buying his first boat in his late 30's made a career change to the craft of boat carpentry. He spent many years honing his craft in trade school until the lure of the sea finally beckoned him to explore far off lands around the globe.
Since arriving in Thailand in 2012 his love of the sea has expanded from sailing to the underwater world and all its beautiful creatures. Inspired by carving an amulet out of a whale bone, he embraced the Thai culture of wood carving. He has since started a small business to pursue his new found love of art.
Rainbow and Candy Apple paints are his first artistic design venture with the Fin Arts shark sculptures and his collaborations with other artist has produced some very special effects that are simply stunning to behold. Stephen's objective is to portray the beauty of the shark without the fear that is generally associated with them.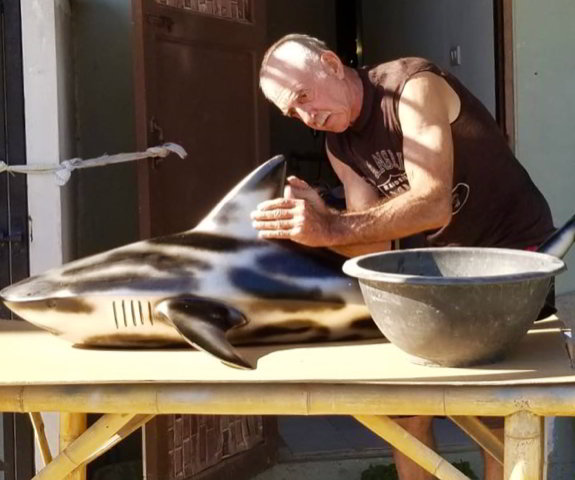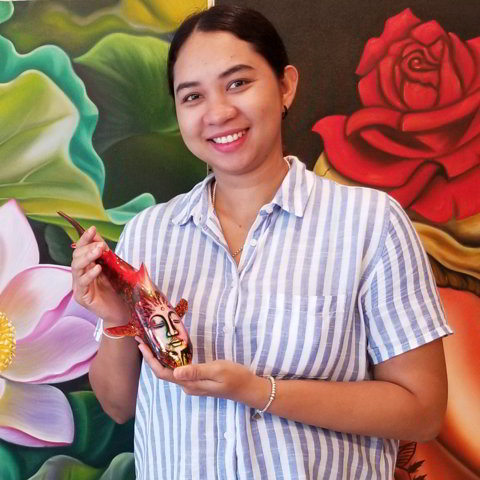 Siwawomng Pratummee (Mai) grew up in a southern province of Thailand called Songkhla. She has always been interested in art and always received the highest grades in that subject every year. Mai went on to obtain a bachelor's degree from Thaksin University in Painting and Sculpture Arts.
After graduating and marriage, Mai and her husband Pu came to Phuket to find jobs as artists. After working in many shops around the island they went on to open their own studio. Mai loves painting landscapes, portraits and abstract oil canvases.
When she was approached by the founders of The Fin Arts to create designs for the shark sculptures, she was elated. This art form was a new idea and exciting concept for her. She tries to convey in her art that everything lives with the belief that trust and knowledge to make all our lives flow.
Niphon Sisomoon (Pu) (Mai's husband) is from Songkhla. Songkhla is known for the ancient tradition of longtail boat painting. Captivated by the visual art around him he studied, attended and graduated from Rajaphat University for Painting and Sculpture Arts.
After graduating and marriage, Pu and his wife came to Phuket to find a job in the arts. Pu loves are virtually realistic drawings and oil painting. The artist was immediately hired to work on the Khao-Rang Temple in 2006. Since opening his studio with his wife in 2011 he has had the time to create and work on his own unique art creations.
The shark sculpture design ("3rd Eye Art Face") was his way of mixing the abstract mystical identity of the shark energy and the visual all-seeing of apex predator.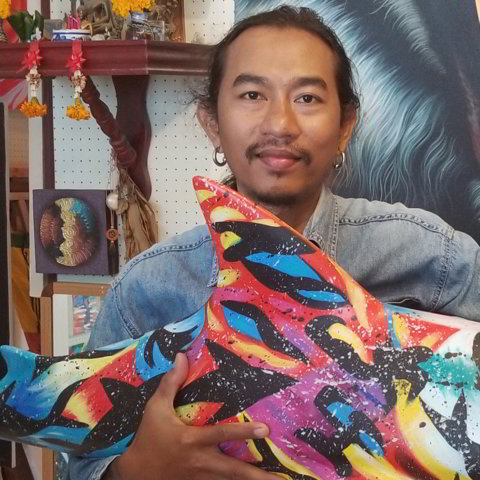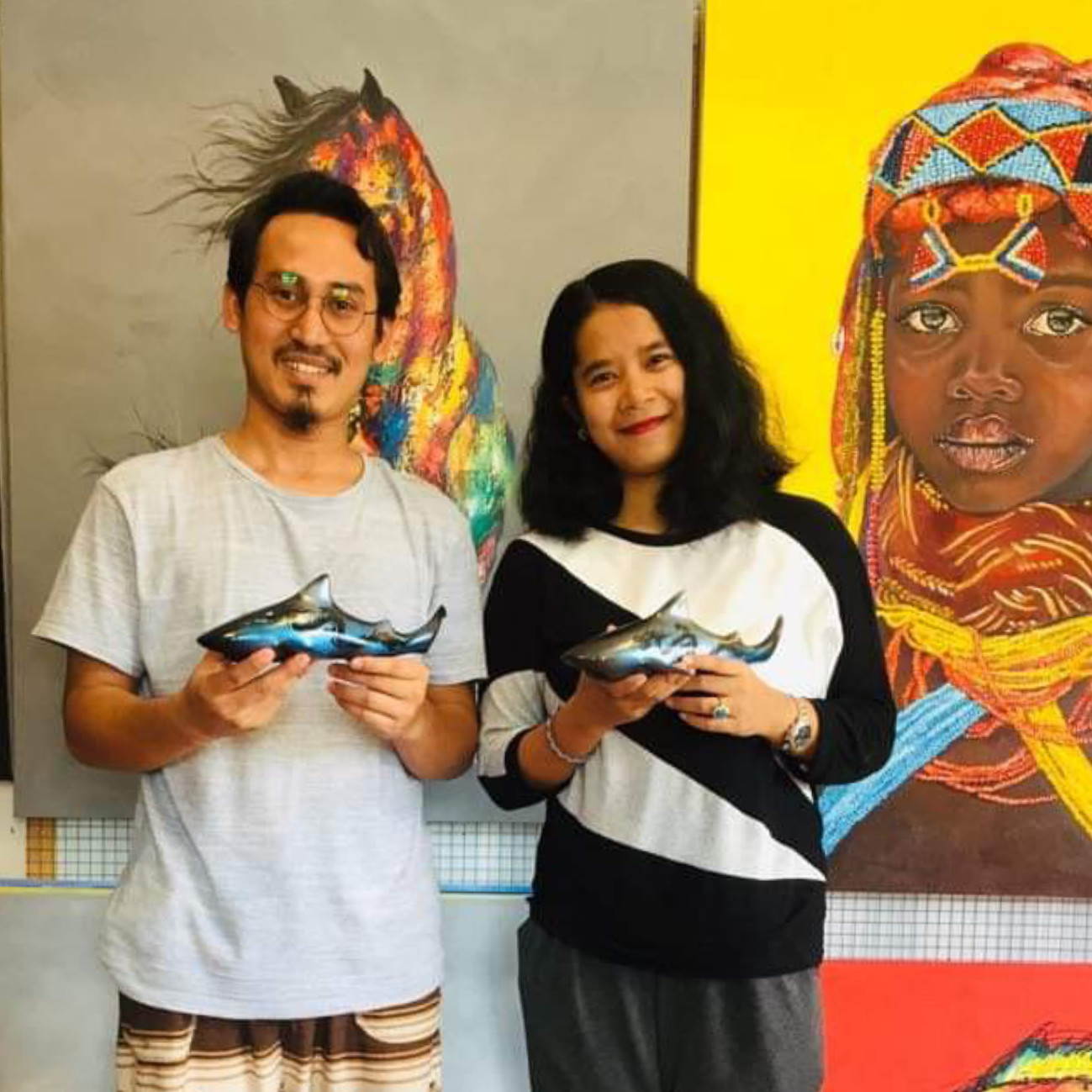 Koravik Hukeaw (Seed) co-owner of Seefa Art Gallery Seed grew up in Trang, and graduated with a bachelor's from Prince of Songkla University Pattani Campus in Faculty of Fine and Applied Arts, this is where he met his wife Fa. After graduation he move to Phuket continued his career in art for four years before opening Seefa Art Gallery with his wife.
Haifa Layee (Fa) co-owner of Seefa Art Gallery Fa grew up in Yala, Thailand, graduated with a bachelor's degree from Prince of Songkla University in Faculty of Fine and Applied Arts. After graduation she moved to Krabi Province to become an art teacher. After 2 years of teaching she moved to Phuket where she worked for an International Art Gallery where she gained great experience in the art world. Haifa and her husband opened their own gallery, Seefa Art, in 2013 and it continues to run successfully today.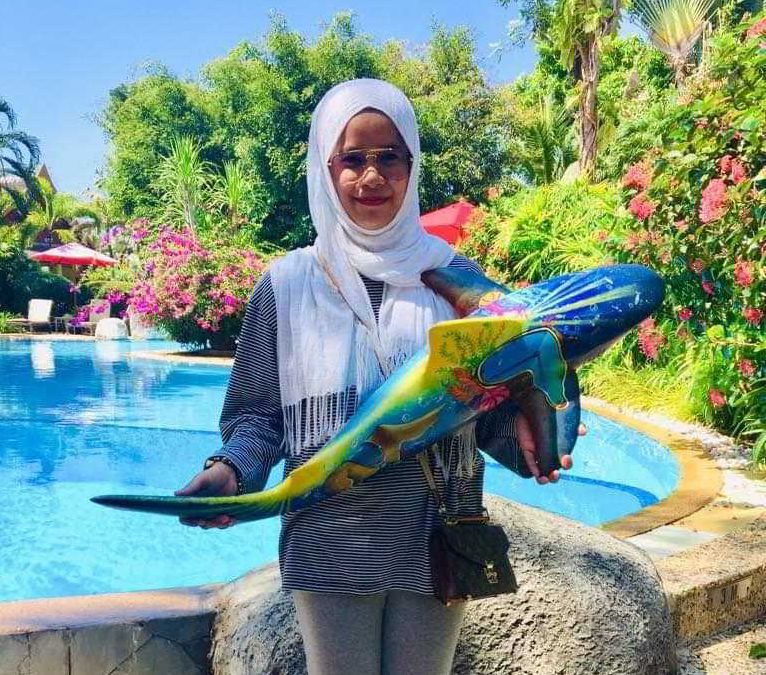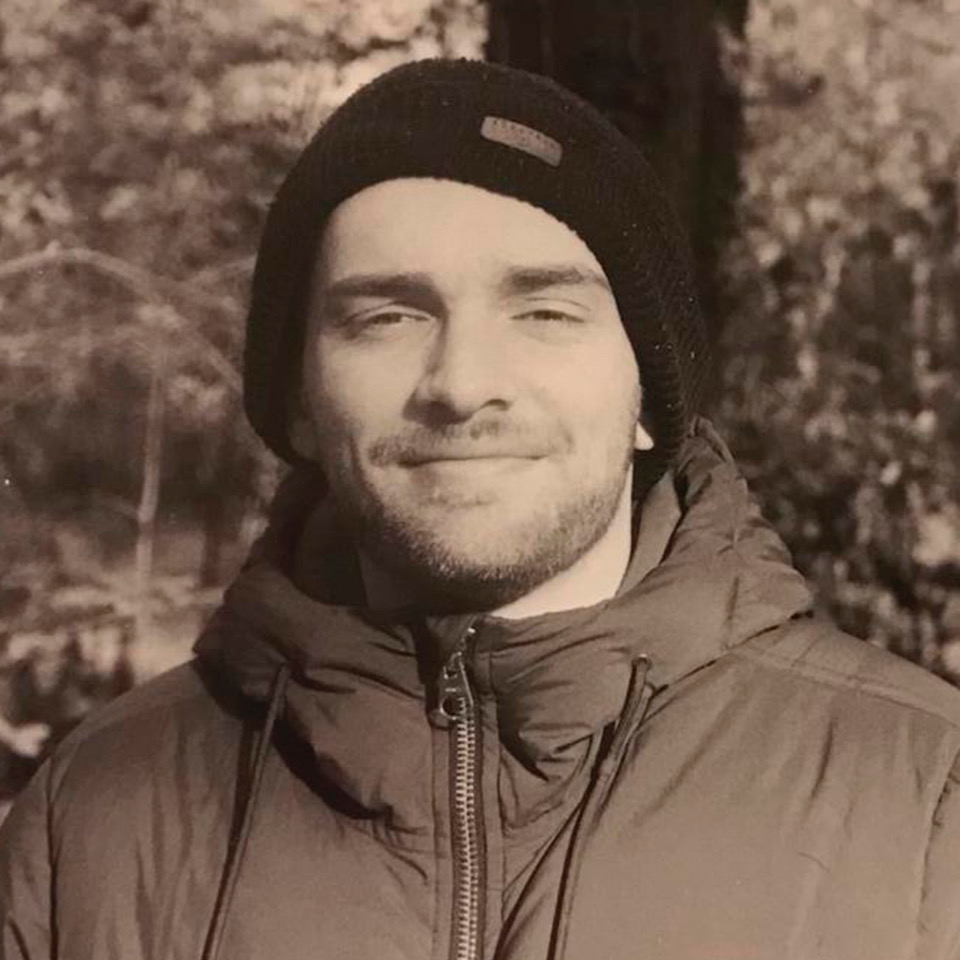 Nikolai was born and raised in Munich. He finished his Bachelor Degree in Communication Design last year. During his study years, he became more and more interested in paintings and fine arts. Since he graduated, he entirely focuses on his artworks. His style could be described as abstract pop art. Until now, he just painted on flat surfaces like canvases, wood or paper, so painting a shark for the Fin-Art-Project, was his first opportunity to work with a spatial object. He hopes that his bright and colourful artwork helps to raise awareness for these majestic creatures. Without sharks, there would be less beauty in the seas.
Renzo is an artist from Argentina now living and working in Berlin. His main art subjects are photography and sculpturing with a huge variety of materials. The Sharks he is designing for the FinArts are covered in gold or bronze. His style is underlining how precious sharks are for the marine environment.